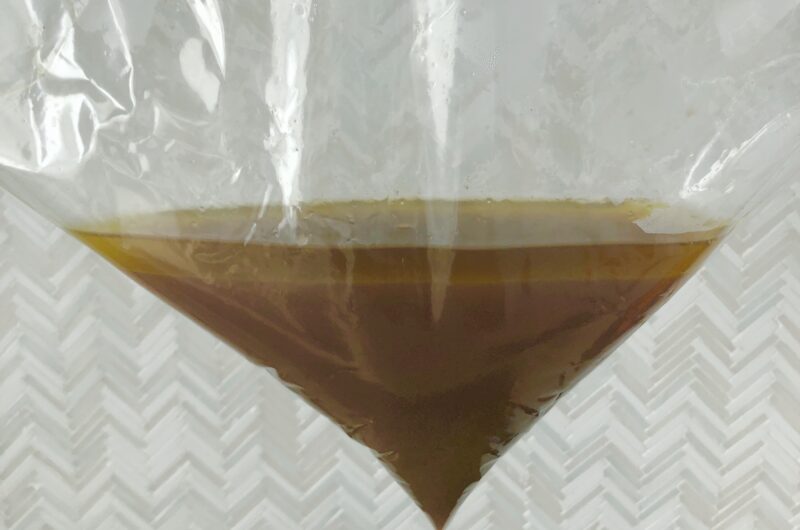 How to Remove Fat without a Gravy Separator (all you need is a Zip-lock!)
SCROLL DOWN FOR VIDEO
Course: Sauce
Difficulty: Easy
Don't own a gravy separator? No problem! Removing fat from pan drippings to make a gravy or sauce is so easy. All you need is a glass measuring cup (or large heat safe receptacle) and a zip lock bag!
Directions
The first step is very important. Allow pan drippings to cool until you are comfortable handling them. Make sure your drippings are strained, or free of any solids.
Line a glass measuring cup with an appropriate sized zip-lock bag. If I have a small amount of drippings, I use a quart sized zip-lock and a pint sized measuring cup. If I have a large amount of drippings, I use a gallon sized zip-lock and a quart sized measuring cup.
Carefully pour the drippings into the zip-lock bag. Wait a minute or so for the fat to rise to the top.
Lift the zip-lock bag out of the glass measuring cup and using kitchen shears, cut a small opening in the bottom corner of bag. Release the liquid from the bag into the measuring cup, and when the fat is approaching the opening, pinch the bag shut with your fingers so no fat escapes into the measuring cup.
Discard fat and use your defatted pan drippings as desired.
Recipe Video