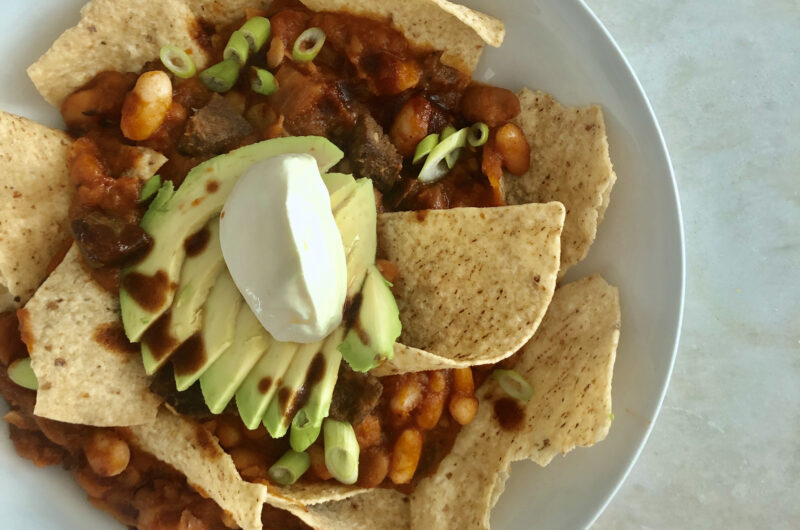 Steak Chili (Chili con Carne)
Course: MAIN COURSES
Steak Chili (as opposed to chili made with ground meat) just screams Super Bowl Sunday because it's a day built around next level snacks! I love to serve my Steak Chili atop a big bowl of chips with all the fixings and zone out to the sound of the referee whistle.

This is a take on my Award Winning Chili, but I use beef chuck that I cut into cubes instead of ground beef. Please note that because chuck prepared this way benefits from a longer cook time, the cook time for this Chili is slightly longer (2 1/2-3 hours) to allow the chuck to braise and soften in the liquid.
Ingredients
1.5-2 pounds beef chuck (not ground), trimmed of visible fat, cut into 1/2-1 inch cubes

2 medium onions (vidalia, if available), diced

5-6 cloves of garlic, smashed

2-3 ribs celery, diced (optional

1.3 tbsp grapeseed oil

3 cans of beans, rinsed drained (use what you like- I use a combination of pinto and great northern beans)

1 1/2 cans (28 oz.) of pureed or crushed tomatoes*

1/4 cup honey

3 1/2 tsp ground cumin

2 tsp dried chipotle powder

1 1/4 tsp ground black pepper

3-4 tsp Kosher salt* (The tomatoes I use have no salt added. If your tomato product has salt in it, salt your meat lightly, and taste the chili after adding your tomatoes and beans before adding any additional salt.)
Directions
Season meat with 1 tsp Kosher Salt. Place a large dutch oven or pot (7 or 8 qt capacity) over medium high heat. Add half your quantity of meat to the pot. Do not stir until some browning occurs. Once this happens, turn the heat down to medium and stir the meat to brown the other sides. Once meat is cooked through remove from heat and repeat with remaining meat. Once finished cooking, remove meat from pot.
Heat 1 tbsp of oil in pot over medium high heat. Once oil shimmers, add onions and garlic (and celery, if using) and 1/2 tsp salt. Reduce heat to medium and cook onion mixture, stirring occasionally, for about 10-15 minutes. You want the onions to be soft with a little bit of color.
Add meat back to the pot. Scatter the cumin and chipotle over the meat and stir.
Add tomato, honey, beans, and the remaining black pepper to potnd reduce heat to medium/low.. Stir to combine. Place a lid on the pot but tilt it so that the pot is slightly ajar. You want some moisture to escape so the chili thickens. Once chili begins to bubble, reduce heat to low. Simmer for 2 1/2-3 hours, stirring occasionally.
Stir chili and using the back of the spoon, press some of the beans against the sides of the pot so that they release some of their starch. This will help to thicken the chili. Taste the chili and season with additional Kosher salt if desired (I usually add around 2 tsp more salt). Serve with all the fixings. I like shredded cheese, sour cream, avocado, and tortilla chips.