(Serves 2 as a main or 3 as a side)
2 cups cooked farro, room temperature
1 pint cherry tomatoes, rinsed and dried
1/2 cup Roasted Garlic Salsa Verde, recipe below
4-5 baby eggplants
1 head of garlic
1/2 tsp dried basil
1/2 tsp dried oregano
1/4 tsp granulated garlic
2 tbsp grated Pecorino Romano cheese, (plus additional for garnish)
2/3 cup extra virgin olive oil
Kosher salt
freshly ground black pepper
2 tbsp toasted pine nuts
Preheat oven to 425 degrees. Make to 8×8 aluminum foil squares. Cut garlic widthwise and drizzle cut sides with 1 tbsp olive oil and a pinch of salt. Close garlic so it looks whole again, then wrap in one foil square, and then the next (this will prevent it from leaking in your oven). Place garlic on low rack in your oven for about 1 hour, or until soft when squeezed.
Place tomatoes on a sheet pan and toss with 2 tbsp oil, 1/4 tsp salt, 1/8 tsp pepper, basil, and oregano. Set aside.
Cut each eggplant in half. Slice each half into 1/4's, keeping stems attached like this: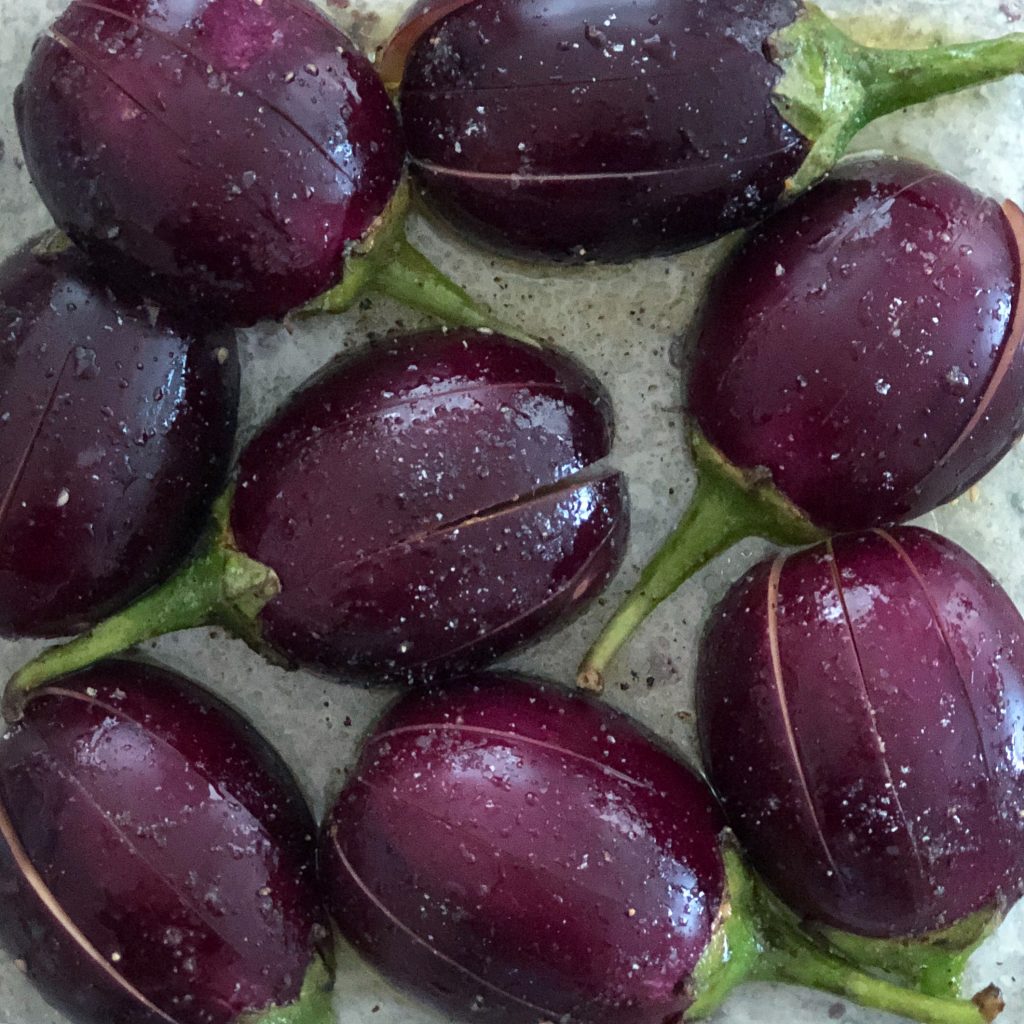 Place eggplant and 1/3 cup of oil into an 8×8 glass dish. Rub oil into eggplant, then season with 1/2 tsp salt and garlic powder. Place eggplant cut side down and cover dish with foil, leaving one end slightly loose.
Roast tomatoes for 25 minutes and eggplant for 40 (uncover for last 10 minutes, flipping pieces over when there is 5 minutes left of cook time). Let tomatoes, eggplant, and garlic cool to room temperature. Remove garlic cloves from skins and prepare Roasted Garlic Salsa Verde.
In a large bowl, toss farro, tomatoes, half the head of garlic, pecorino, and 1/2 cup Roasted Garlic Salsa Verde. Season to taste with salt and black pepper. Plate salads, then top with eggplant, pine nuts, and additional Salsa Verde and pecorino cheese.
Roasted Garlic Salsa Verde
1 1/2 cups packed chopped parsley
2 rounded tbsp of capers
3 anchovy fillets
1/2 head of roasted garlic (instructions in salad recipe)
zest of one lemon
1/8 tsp freshly ground black pepper
2/3 cup olive oil
Place all ingredients in food processor bowl. Pulse until parsley is well chopped, about 15 pulses.